Nagios Training
Training provides IT staff with the skills and knowledge necessary to deploy and maintain a successful deployment of Nagios. Nagios offers different training options for students, to allow them to choose what works best for them.
Our live training course provides students with hands-on training that empowers them with the knowledge to successfully install, configure and manage a Nagios deployment. This virtual, online training allows students to interact with and ask questions of the instructor as they demonstrate various Nagios labs.
Our self-paced training allows you to learn Nagios on your own schedule – when it works best for you. Our online training materials and videos are updated with the latest information you need to design, deploy, and manage a successful Nagios installation. Self-paced training includes 12 months of access to our online, self-paced training material.
Nagios XI - The Industry Standard Monitoring Solution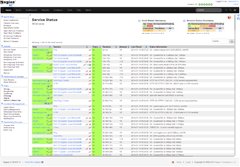 Nagios XI is the most powerful IT infrastructure monitoring solution on the market. Nagios XI extends on proven, enterprise-class Open Source components to deliver the best monitoring solution for today's demanding organizational requirements.
Designed for scalability and flexibility, XI is designed to make problematic IT monitoring tasks simple, while retaining the powerful attributes of its enterprise-class foundation blocks.
More Information
See Also



by Scott Wilkerson