Organizations, especially those involving IT operations, are always looking for ways to increase their availability. Increasing availability in your IT environment means improving the visibility and stability of your servers and network systems to ensure that your services are always up and running. With a highly available network, you can guarantee customer satisfaction.
How Nagios Solutions Can Help
Nagios IT management solutions can help you be proactive in resolving outages before they affect critical business processes, which minimizes downtime and increases your network availability.
By deploying a Nagios solution, organizations can benefit from monitoring all mission-critical infrastructure components, including applications, services, operating systems, network protocols, system metrics, and network infrastructure. This gives organizations insight into their IT infrastructure and allows them to respond to critical issues as they arise, as well as predict and prevent future outages from happening.
Alerting features also allow for quick responses to outages, security threats, or abnormal behavior. Being able to respond quickly means less downtime for your business and increased availability internally and externally.
Solutions
These Nagios solutions help increase network availability:
By using Nagios, you can:
Reduce downtime
Increase server availability
Maximize potential revenue
Increase business process efficiency
Recommended Software: Nagios XI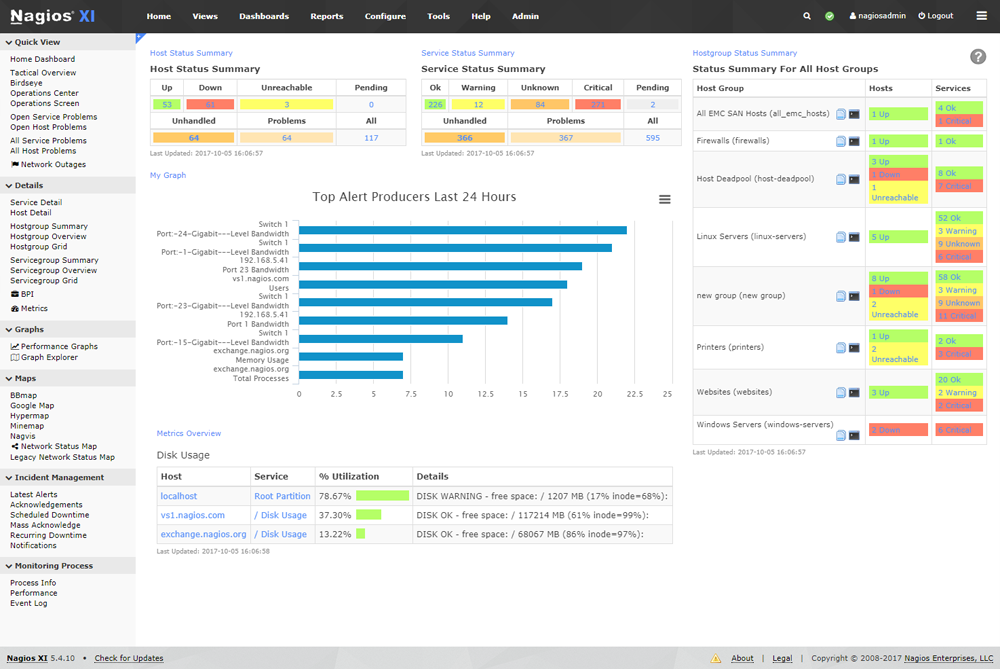 Learn More | Demo
Nagios XI is the most powerful and trusted infrastructure monitoring tool on the market. Millions of users and thousands of companies, ranging from Fortune 500s to small business owners, trust Nagios XI to get the job done.