Titans Monitor Everything
Manufacturing titans like General Motors, General Electric, BMW, and Procter & Gamble build incredible systems that go through the steps of turning raw materials into the manufactured goods we all use every day. The advances in manufacturing bring more and more technology into the picture, and the tolerances that items have while being manufactured are getting tighter and tighter.
Reduce Waste and Strict Tolerances
Much of the current manufacturing process is monitored by sensors that receive information directly from the equipment used to turn out the parts. Leading manufacturers need to rely on best-in-class IT software and systems to monitor all of the sensors, IT equipment, and networks on all of their manufacturing floors. Additionally, logistics providers use Nagios to keep the manufactured goods moving.
Top Solutions for Innovation Leaders
Key manufacturers use Nagios' comprehensive software suite to monitor equipment and sensors on the manufacturing floor, including little things like paint thickness on parts. Nagios provides proactive alerts so actions can be taken to prevent or reduce downtime and keep systems online. Monitoring key performance metrics provides invaluable information necessary to plan and budget for future system upgrades or prepare for required maintenance.

Manufacturers who implement Nagios solutions receive instant notifications of network, communication, and system outages that can affect their production. Once alerted, IT staff can resolve problems quickly, thus lessening the impact of outages and reducing or eliminating downtime.
With Nagios, industry leaders can:
Improve operational awareness
Be alerted to problems before they occur
Improve public visibility and credibility
Improve ROI on IT systems
Improve operation efficiency
Further Reading
More Information
Recommended Software: Nagios XI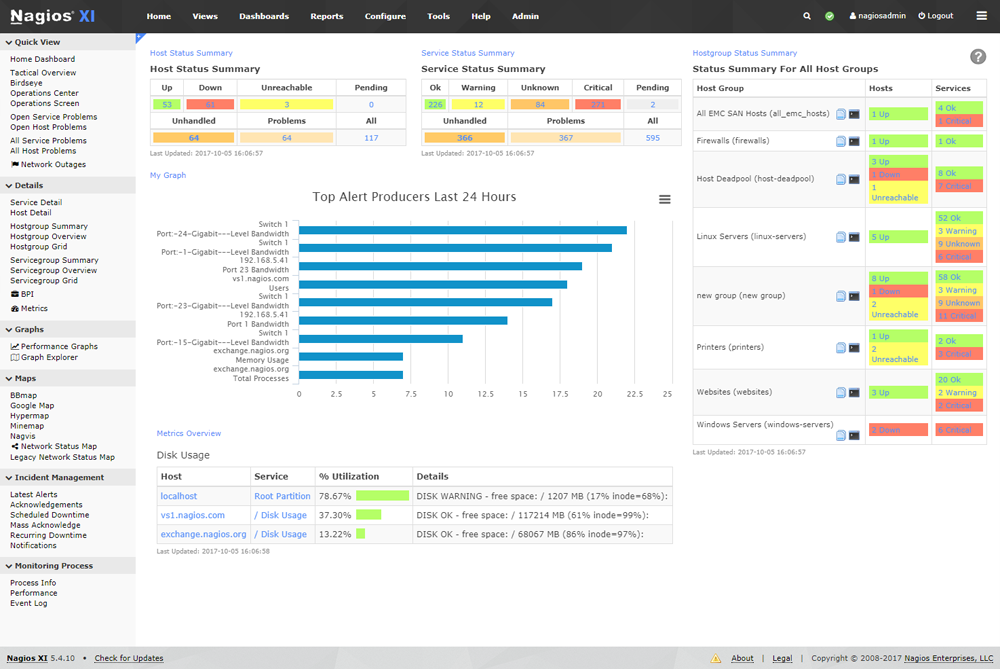 Learn More | Demo
Nagios XI is the most powerful and trusted infrastructure monitoring tool on the market. Millions of users and thousands of companies, ranging from Fortune 500s to small business owners, trust Nagios XI to get the job done.