Server Monitoring With Nagios
Capabilities

Nagios is known as being the top solution to monitor servers is a variety of different ways.  Server monitoring is made easy in
Nagios because of the flexability to monitor your servers with both agent based and agentless monitoring.  With over 3500 different addons available to monitor your servers, the community at the Nagios Exchange have left no stone unturned.
Nagios is fully capable of monitoring Windows servers, Linux servers, Unix servers, Solaris, AIX, HP-UX, and Mac OS/X and more.
Benefits
Implementing effective server monitoring with Nagios offers the following benefits:
Increased server, services, process, and application availability
Fast detection of network and server outages and protocol failures
Fast detection of failed servers, services, processes and batch jobs
Solutions
These Nagios solutions provide server monitoring capabilities and benefits:
Nagios XI - The Industry Standard Monitoring Solution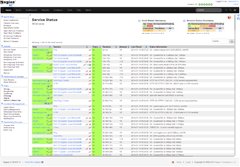 Nagios XI is the most powerful IT infrastructure monitoring solution on the market. Nagios XI extends on proven, enterprise-class Open Source components to deliver the best monitoring solution for today's demanding organizational requirements.
Designed for scalability and flexibility, XI is designed to make problematic IT monitoring tasks simple, while retaining the powerful attributes of its enterprise-class foundation blocks.
See Also
by Scott Wilkerson