Meeting Customers' Expectations
Global telecommunications leaders like AT&T, Verizon, Vodafone, and others have high expectations from their customers that are getting increasingly difficult to maintain with a plethora of new communications mediums coming online at an ever-increasing rate. As most communications providers have an ever-expanding network to maintain both private and Internet connections, the amount of downtime expected is zero.
Telecommunications leaders need to operate 24 hours a day with zero downtime to meet these expectations.
Keeping Everyone Online
Leaders in the telecommunications industry choose Nagios to keep their equipment online and functioning when it is needed most.
By deploying a Nagios solution, leading communications companies can benefit from Nagios' comprehensive monitoring and alerting capabilities. By providing proactive alerts, downtime can be drastically reduced, keeping systems online and data moving. Monitoring key performance metrics provides invaluable information necessary to plan and budget for future system upgrades or prepare for required maintenance.
Delivering on Critical Missions
Many telecommunications leaders also operate and maintain telecommunications systems for law enforcement, fire, and rescue, and they need to be online and fully functional even in the event that the mass communications systems and Internet are impaired.
By implementing Nagios, telecommunications leaders can receive near-instant notifications of website and system outages that can affect their public image, operational efficiency, customer expectations, and their ability to provide reliable service. Once alerted, IT staff can resolve problems quickly, lessening the impact of outages and reducing or eliminating downtime.
Telecommunications companies implementing Nagios can:
Improve customer expectations
Improve website availability
Improve public visibility and credibility
Improve ROI on IT systems
Improve operation efficiency
Further Reading
More Information
Recommended Software: Nagios XI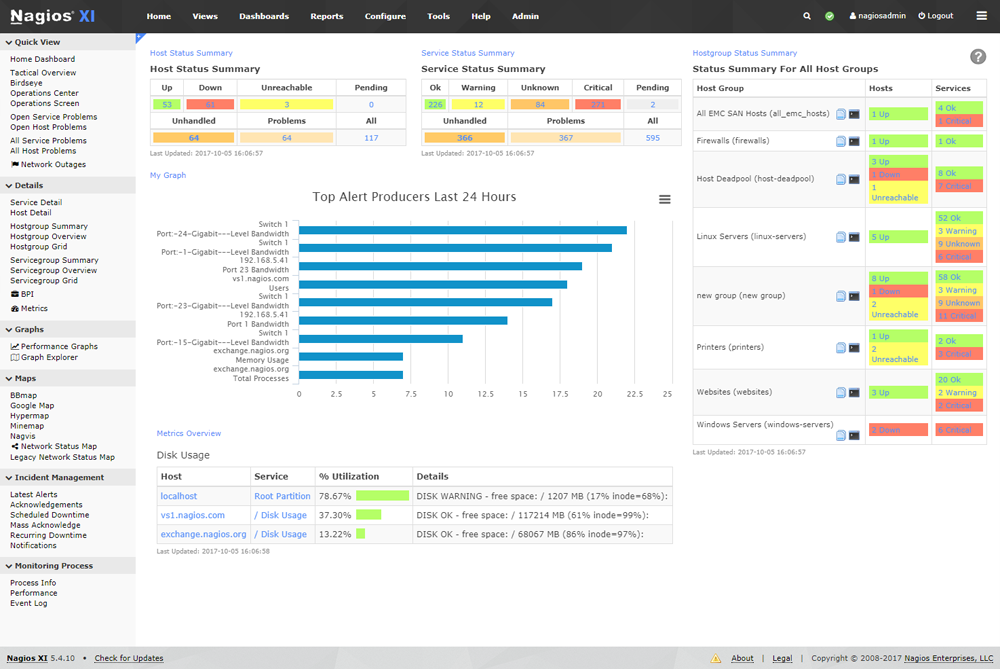 Learn More | Demo
Nagios XI is the most powerful and trusted infrastructure monitoring tool on the market. Millions of users and thousands of companies, ranging from Fortune 500s to small business owners, trust Nagios XI to get the job done.