Hard Drive Monitoring With Nagios
Capabilities
Nagios provides complete monitoring of hard drives – including disk usage, directories, files, S.M.A.R.T. status, RAID array status, and more.
Benefits
Implementing effective hard drive monitoring with Nagios offers the following benefits:
Advanced planning for system upgrades
Fast detection of storage subsystem problems
Early detection of potential future failures
Reduced risk of unexpected downtime
Solutions
These Nagios solutions provide hard drive monitoring capabilities and benefits:
Nagios XI - The Industry Standard Monitoring Solution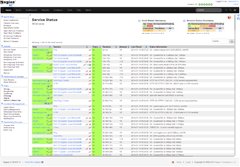 Nagios XI is the most powerful IT infrastructure monitoring solution on the market. Nagios XI extends on proven, enterprise-class Open Source components to deliver the best monitoring solution for today's demanding organizational requirements.
Designed for scalability and flexibility, XI is designed to make problematic IT monitoring tasks simple, while retaining the powerful attributes of its enterprise-class foundation blocks.
Resources
See Also


by Scott Wilkerson