Nagios Solutions For Government
National, state, and local government agencies are under constant pressure to manage their budgets while providing services to their respective constituents.
The increased need for government efficiency and effective resource management creates many challenges related to the deployment and management of IT systems.
How Nagios Can Help
By deploying a Nagios solution, government agencies can benefit from Nagios' comprehensive monitoring and alerting capabilities.
Performance graphing and capacity planning features allow government agencies to keep their production IT systems running as long as possible, thereby allowing them to stretch their budgets as far as possible. Monitoring of key performance metrics provides invaluable information necessary to plan and budget for future system upgrades.
By implementing Nagios, government agencies can receive instant notifications of website and system outages that can affect their public image, operational efficiency, and service delivery. Once alerted, IT staff can resolve problems more quickly, thus lessening the impact of outages.
By implementing Nagios, government agencies can realize:
Improved IT system operations
Improved website availability
Improved public visibility and credibility
Improved ROI on IT systems
Better relationships with their constituents and the public
Nagios XI - The Industry Standard Monitoring Solution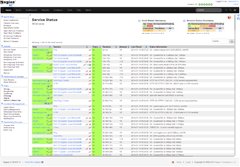 Nagios XI is the most powerful IT infrastructure monitoring solution on the market. Nagios XI extends on proven, enterprise-class Open Source components to deliver the best monitoring solution for today's demanding organizational requirements.
Designed for scalability and flexibility, XI is designed to make problematic IT monitoring tasks simple, while retaining the powerful attributes of its enterprise-class foundation blocks.
Further Reading
More Information
See Also
Government Agencies Using Nagios


by Scott Wilkerson