Web Transaction Monitoring
Web Transaction Monitoring With Nagios
Capabilities
Nagios provides complete monitoring of websites, web applications, web transactions, and web services – including availability, URL monitoring, HTTP status, content monitoring, hijack detection, and more.
Benefits
Implementing effective web trasnaction monitoring with Nagios offers the following benefits:
Increased web form availability
Increased website and web application availability
Increased website performance
Fast detection of outages, website defacement, and website hijacking
Capacity planning information for future web server and application upgrades
Nagios XI - The Industry Standard Monitoring Solution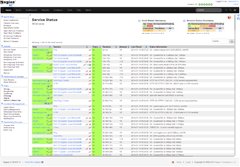 Nagios XI is the most powerful IT infrastructure monitoring solution on the market. Nagios XI extends on proven, enterprise-class Open Source components to deliver the best monitoring solution for today's demanding organizational requirements.
Designed for scalability and flexibility, XI is designed to make problematic IT monitoring tasks simple, while retaining the powerful attributes of its enterprise-class foundation blocks.
Resources
In Depth
Find in-depth details on the web transaction monitoring capabilities of Nagios:


by Scott Wilkerson