AIX Monitoring With Nagios
Nagios provides complete monitoring of AIX – including operating system metrics and service state.
How Nagios Solutions Can Help
Solutions from Nagios can help ensure that your organization's IT systems are operating properly at all times, and that troubles are brewing under the hood.
By deploying Nagios, you get an inside look at the performance, status, and history of monitored elements of your IT infrastructure. This allows your team to determine system maintenance and upgrades that are required to avoid future problems before they occur.
If a failure or outage is detected, IT staff are immediately notified of the problem so they can quickly begin resolving the alert.
Solutions
These Nagios solutions provide AIX monitoring capabilities and benefits:
Resources
Documentation
By using Nagios, you can:
Implementing effective AIX monitoring with Nagios offers the following benefits:
Increased server, services, and application availability
Fast detection of network outages and protocol failures
See Also
Nagios XI - The Industry Standard Monitoring Solution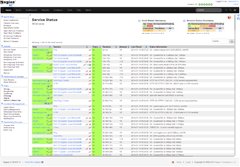 Nagios XI is the most powerful IT infrastructure monitoring solution on the market. Nagios XI extends on proven, enterprise-class Open Source components to deliver the best monitoring solution for today's demanding organizational requirements.
Designed for scalability and flexibility, XI is designed to make problematic IT monitoring tasks simple, while retaining the powerful attributes of its enterprise-class foundation blocks.
by Scott Wilkerson