Nagios Live Webinars
Let our experts show you how Nagios can help your organization.
Router Monitoring With Nagios
Capabilities
Nagios provides complete router monitoring via SNMP. Routers can be monitored via SNMP v1, 2c, or 3. Thousands of different network devices are enabled by default for this type of monitoring. You can easily monitor Port utilization on the router as well as the current port status. Additionally, by querying other SNMP metric on the router with Nagios plugins you can monitor the following metrics for each port on the router
ifInUcastPkts
ifOutUcastPkts
ifInNUcastPkts
ifOutNUcastPkts
ifInDiscards
ifOutDiscards
ifInErrors
ifOutErrors
ifInUnknownProtos
and so many more!
Nagios XI makes this process even easier by allowing you to run the router monitoring wizard to automate the whole setup process.
Benefits
Implementing effective router monitoring with Nagios offers the following benefits:
Agentless monitoring
Ability to track per-port bandwidth utilization and errors
Increased server, services, and application availability
Fast detection of network outages and protocol failures
Solutions
These Nagios solutions provide router monitoring capabilities and benefits:
Nagios XI - The Industry Standard Monitoring Solution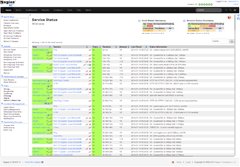 Nagios XI is the most powerful IT infrastructure monitoring solution on the market. Nagios XI extends on proven, enterprise-class Open Source components to deliver the best monitoring solution for today's demanding organizational requirements.
Designed for scalability and flexibility, XI is designed to make problematic IT monitoring tasks simple, while retaining the powerful attributes of its enterprise-class foundation blocks.
Video
Resources
Documentation
See Also
By Scott Wilkerson