Nagios SLA Reports
With Nagios SLA Reports you get what you pay for with Service-Level Agreement (SLA) reports. SLAs are frequently used to formally define the level of service between two parties. SLAs help set a level of accountability for a service delivered, and enable the quality of service to be benchmarked. Keeping track of the extent to which service-level agreements are being met provides greater visibility when problems arise. Monitoring services and specific hosts helps ensure you're receiving the full level of service agreed upon in your SLA.
How Nagios Can Help Deliver Automated (or not) SLA Reports.

Nagios' SLA reports provide you the ability to measure the effectiveness of specific hosts, services, and business processes, so you can determine if your SLAs are being met. Nagios schedules SLA reports to be regularly delivered right to your inbox (or someone else's) so you can get an overall glimpse into your network performance statistics.
Solutions
Check out these Nagios solutions to help you successfully reduce your IT expenditures:
Nagios XI - The Industry Standard Monitoring Solution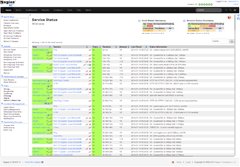 Nagios XI is the most powerful IT infrastructure monitoring solution on the market. Nagios XI extends on proven, enterprise-class Open Source components to deliver the best monitoring solution for today's demanding organizational requirements.
Designed for scalability and flexibility, XI is designed to make problematic IT monitoring tasks simple, while retaining the powerful attributes of its enterprise-class foundation blocks.
With Nagios you can:
Measure the effectiveness of specific hosts
Schedule reports for active overview of performance statistics
Increase productivity and efficiency
Be alerted to outage possibilities before they happen