Maximizing Revenues By Using Nagios
Increasing revenues is a focal point of your organization's efforts to create new growth opportunities. However, unexpected failures in your organization's websites, computer systems, applications and business processes that cause significant downtime can impact your bottom line.
Detecting problems before they cause failures and responding to failures as soon as they occur should be a top priority to ensure minimal impact to your organization's revenue generation activities.
How Nagios Solutions Can Help
Solutions from Nagios can help ensure that your organization's IT systems are operating properly at all times, and that any troubles brewing under the hood are detected and dealt with immediately.
With Nagios, you get an inside look at the performance, status and history of monitored elements of your IT infrastructure. This allows your team to determine the system maintenance and upgrades required to avoid future problems before they occur.
If a failure or outage is detected, IT staff are immediately notified so they can quickly begin resolving the problem.
By using Nagios, you can:
Ensure IT system availability
Maximize uptime
Reduce revenue losses due to downtime
Proactively monitor IT systems and plan for upgrades
Solutions
These Nagios solutions help organizations maximize revenues:
Nagios XI - The Industry Standard Monitoring Solution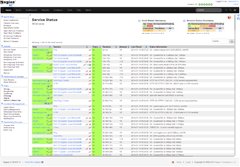 Nagios XI is the most powerful IT infrastructure monitoring solution on the market. Nagios XI extends on proven, enterprise-class Open Source components to deliver the best monitoring solution for today's demanding organizational requirements.
Designed for scalability and flexibility, XI is designed to make problematic IT monitoring tasks simple, while retaining the powerful attributes of its enterprise-class foundation blocks.
See Also
Reducing Downtime
Increasing Productivity
Increasing Availability



by Scott Wilkerson