Top-Level Quality of Care
Hospitals, ambulatory surgical centers, doctor's offices, urgent care clinics, and nursing homes are under constant pressure to manage their budgets while providing top-level quality care to people in their facilities.
The increased need to have everything fully operational 24 hours a day creates many challenges related to the deployment and management of IT systems. Top-rated healthcare facilities choose Nagios to keep their equipment online and functioning when it is needed most.
Keeping Healthcare Facilities Online
By deploying a Nagios solution, healthcare facilities can benefit from Nagios' comprehensive monitoring and alerting capabilities.
Performance graphing and capacity planning features allow hospitals, clinics, and labs to keep their production IT systems running as long as possible, thereby allowing them to stretch their budgets as far as possible. Monitoring key performance metrics provides invaluable information necessary to plan and budget for future system upgrades.
By implementing Nagios, medical agencies can receive instant notifications of website and system outages that can affect their public image, operational efficiency, and quality of care. Once alerted, IT staff can resolve problems more quickly, thus lessening the impact of outages.
By implementing Nagios, healthcare facilities can:
Improve IT system operations
Improve website availability
Improve public visibility and credibility
Improve ROI on IT systems
Improve operation efficiency
Further Reading
More Information
Recommended Software: Nagios XI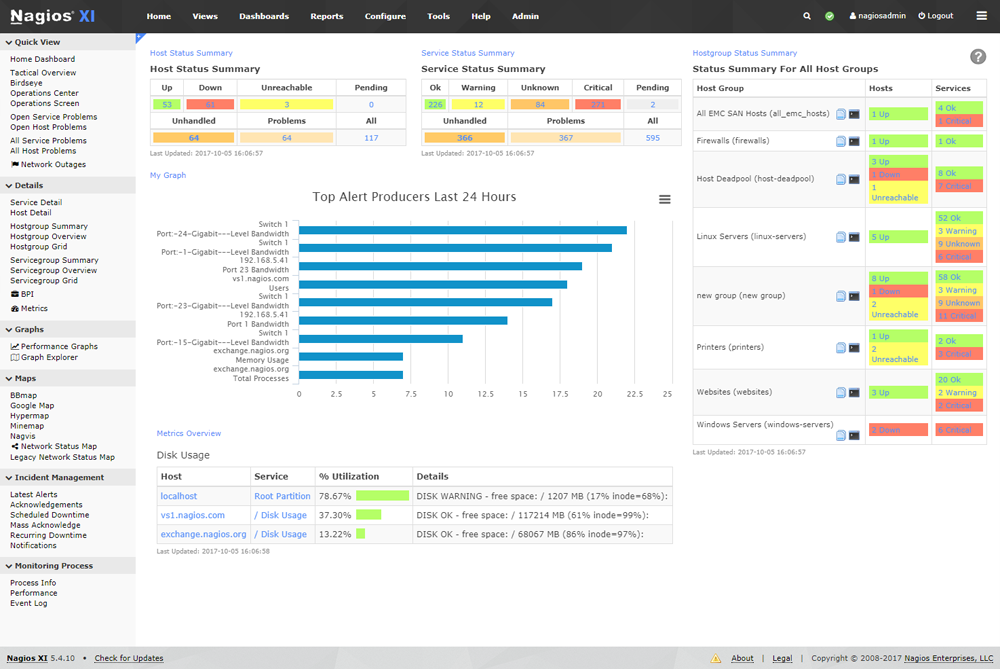 Learn More | Demo
Nagios XI is the most powerful and trusted infrastructure monitoring tool on the market. Millions of users and thousands of companies, ranging from Fortune 500s to small business owners, trust Nagios XI to get the job done.