Empowering your employees has become a necessity for creating a positive work environment. By doing so, you are providing them with opportunities to make independent decisions in given situations where they can solve problems and improve performance. All of which are critical in any organization.
Solutions from Nagios help ensure that your staff is equipped with the ability to make prompt decisions in regards to the health and status of your organization's network and business processes.
How Nagios Solutions Can Help
By deploying Nagios IT management solutions, organizations can provide their employees with the ability to access comprehensive monitoring and alerting capabilities.
Monitoring and alerting features provide IT staff with an extended insight into their IT infrastructure, allowing them to find and fix problems before they affect critical business processes. In any event, alerts can be sent to IT staff, business stakeholders, or end users to ensure that outage details are provided to the correct member and issues can be resolved immediately.
Also, the integrated web-based configuration interface allows administrators to empower other team members with the ability to monitor configuration and system settings without having to understand complex monitoring concepts.
Solutions
These Nagios solutions help empower IT staff:
By using Nagios, You Can:
Increase Efficiency and Performance of Monitoring
Reduce Downtime
Resolve Outages More Quickly
Customize Control
Recommended Software: Nagios XI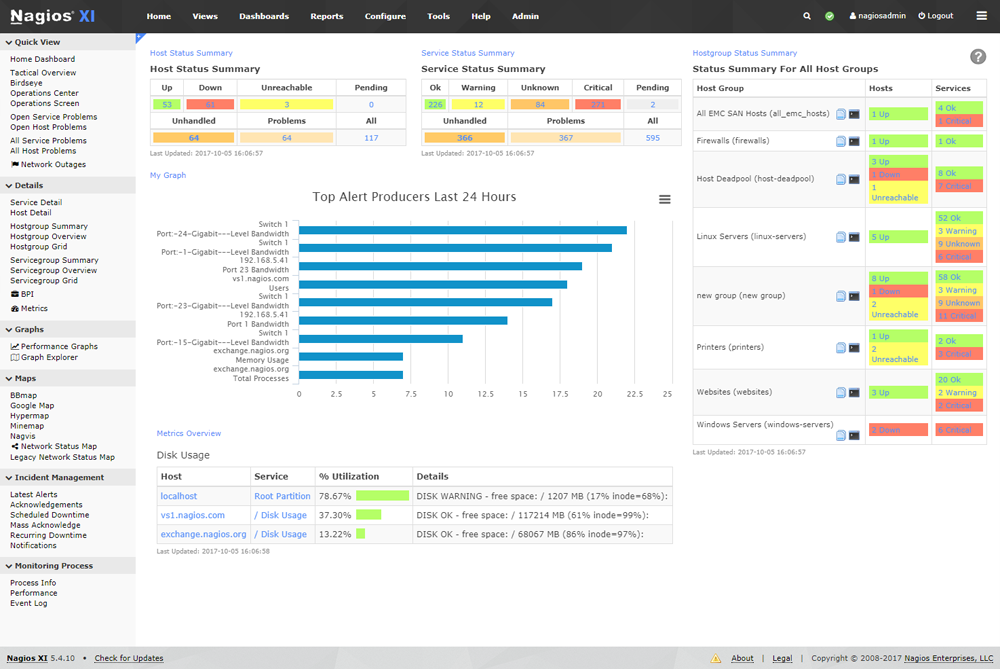 Learn More | Demo
Nagios XI is the most powerful and trusted infrastructure monitoring tool on the market. Millions of users and thousands of companies, ranging from Fortune 500s to small business owners, trust Nagios XI to get the job done.