Agentless Monitoring With Nagios
Nagios provides both agentless and agent-based monitoring of Windows, Linux, and Unix systems, as well as network equipment – including operating system metrics, service state, process state, file system usage, and more. Agentless technologies like WMI and SNMP allow IT administrator to deploy monitoring solutions without having to install agent software on each monitored system.
How Nagios Solutions Can Help
Solutions from Nagios can help ensure that your organization's IT systems are operating properly at all times, and that troubles are brewing under the hood.
By deploying Nagios, you get an inside look at the performance, status, and history of monitored elements of your IT infrastructure. This allows your team to determine system maintenance and upgrades that are required to avoid future problems before they occur.
If a failure or outage is detected, IT staff are immediately notified of the problem so they can quickly begin resolving the alert.
Solutions
These Nagios solutions provide agentless monitoring capabilities and benefits:
By using Nagios, you can:
Implementing effective agent-based monitoring with Nagios offers the following benefits:
Increased server, services, and application availability
Fast detection of server and operating system failures
Fast detection of service and application failures
Reduced deployment time
Reduced administrative overhead
Centralized configuration
See Also
Nagios Log Server - The Industry Standard Log Analysis, Log Monitoring, and Log Management Solution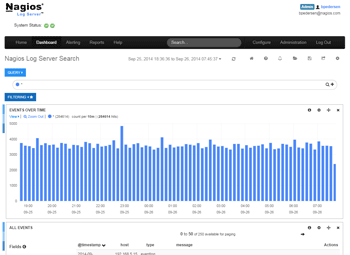 Nagios Log Server is the most powerful IT log analysis solution on the market. Nagios Log Server extends on proven, enterprise-class Open Source components to deliver the best log monitoring and analysis solution for today's demanding organizational requirements.
Designed for scalability and flexibility, Nagios Log Server is designed to make problematic IT log analysis and monitoring tasks simple, while retaining the powerful attributes of its enterprise-class foundation blocks.
Nagios Log Server allows you to quickly and easily collect, analyze, monitor, and configure logs from any source on any given network. Nagios Log Server offers complete monitoring and management of:
Windows Event Logs
Linux/Unix Syslog Data
Application Logs
Apache and IIS Web Server Logs
Custom Log Files
by Scott Wilkerson