Case Study

Nagios simplifies IT infrastructure, increases operational efficiency for Swiss telecom provider
Company Profile
Sunrise Telecommunications is the largest telecommunications provider in Switzerland. More than 2.86 million customers use Sunrise's services for their mobile telephone, fixed network, and internet services needs. Sunrise is a brand of Sunrise Communications, AG.

Business Needs
Sunrise's IT infrastructure had become diluted over the years due to mergers and reorganizations. They had a large variety of systems and applications in use, many of which had overlapping functions, creating redundant services, and obscuring a big picture view of their IT health. This meant that they were losing money on unnecessary licensing, maintenance and hardware, and wasting time on operational overhead. Sunrise decided it was time to consolidate its monitoring software into a single solution to help save time and money.

"With Nagios we were able to consolidate multiple commercial monitoring solutions into one, and at the same time reduce our maintenance costs."
The Challenge
Sunrise had a broad range of IT systems in use, so they required a tight implementation schedule, not to mention a small project budget, and coordinating multiple parties and teams. The varied operating systems and hardware architecture, a complex network design, and a reliance on the community for system support added additional obstacles.

Why Nagios?
Nagios helped Sunrise by:
Implementing Nagios servers as virtual servers, allowing collectors to be scaled gradually to meet performance requirements.
Implementing two physical servers for centralized monitoring and alerting, in order to enable direct-attached USB modems for text notifications.
Using Nagios plugins whenever possible and deploying server checks using customized packages.
Using Nagios' easy configuration for their machines and applications.
The Bottom Line
Nagios provided Sunrise with:
A flexible and extensible monitoring solution that offered a big picture view of the
health of their critical infrastructure.
Increased operational efficiency and cost savings.
The ability to consolidate their systems to a single, central Nagios platform to further realize cost savings and to simplify their systems.
---
Nagios XI - The Industry Standard Monitoring Solution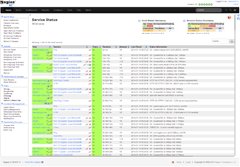 Nagios XI is the most powerful IT infrastructure monitoring solution on the market. Nagios XI extends on proven, enterprise-class Open Source components to deliver the best monitoring solution for today's demanding organizational requirements.
Designed for scalability and flexibility, XI is designed to make problematic IT monitoring tasks simple, while retaining the powerful attributes of its enterprise-class foundation blocks.
Learn More
Download Free Trial
Online Demo