Case Study

ASE Streamlines IT Environments By Switching to Nagios XI
About the Customer
Headquartered in Amman, Jordan, the Amman Stock Exchange (ASE) was established in 1999 as an independent non-profit institution and transferred into a fully government-owned public shareholding company in February 2017. It is a regulated market for trading securities in Jordan; it operates, manages, and develops securities markets' operations and activities inside and outside the country.
ASE sought a secure and robust IT environment to support trading activities. It maintains three data center sites (Main, DR, and Cold DR). Main and DR use dark fiber connectivity ACTIVE/ACTIVE. The systems are implemented on the main site over clusters to handle minor and significant contingencies. The DR site is equipped with similar clusters to address the issues of total site failures. Both sites are synchronously replicated over metro mirroring. ASE IT infrastructure is based on N+1 redundancy.
The Challenges
Monitoring an increasingly complex IT environment
ASE relied on several open source monitoring solutions for its IT infrastructure, including Nagios Core. But as the complexity of IT needs grew, the organization required a more robust solution.
"Our IT environment was requiring a lot of manual work to monitor," said Fadi Sodah, ASE's director of information and communications technology. "We were working in command lines and doing a lot with configuration lines. Plus, there's always the risk of human error. We needed a better solution with a good user interface and integration with other applications."
Sodah and the team began a search for a new monitoring solution. "Some were too complex, others had hidden costs, and others didn't do what we needed," he said. "But with Nagios XI, we could get multiple licenses and upgrade the bundle of licenses and nodes. That was one of the major reasons we decided on Nagios. Plus, the community is so huge; they offer support and have skilled, friendly people."
Why Nagios?
True customization and the power to monitor anything
Nagios XI delivers detailed application, service, and network monitoring all in a central location.  With graphs and reports, customizable dashboards, integrated databases, backend API, multi-tenancy and configuration wizards, Nagios XI empowers teams to work faster and smarter with a complete monitoring, alerting, graphing and reporting solution.
As a Linux-based solution, Nagios XI allows for true customization during installation. Its architecture enables users to focus on protocols and use any preferred programming language. Users can also build out Nagios XI to monitor any data in any manner that fits their unique needs – ensuring a future-proof solution that evolves with an IT environment.
"Nagios XI has made our system admin tasks very easy and the interface is really great," said Sodah. "It gives you the tools to monitor anything, but you need to make the effort and take the time to understand everything you're running on the platform. You have to do that if you want to monitor everything correctly."
The Results
Precise customization for a strong IT backbone
The Amman Stock Exchange started with 200 Nagios XI nodes to cover approximately 2,000 services and apps. Today, it has 300 nodes covering about 4,000 services that include databases, services, VM ware, NetWare, logic, routers and every port in devices.
ASE purchased Nagios XI licenses from Dima Solutions, Nagios Enterprises' regional partner. Following the purchase, Sodah and his team built out and began fine tuning Nagios XI.
"We made a large investment of time configuring Nagios XI to precisely monitor what we need for the trading systems and auxiliary systems. We also made its alerting mechanism use the SMS service provider and not depend on an Internet connection," explained Sodah. "We're proud of what we did with Nagios XI and we love it. If you compare Nagios XI with other software vendors, those other vendors are taking a lot of your money. The customization of Nagios XI is very valuable to us."
Today, ASE can drill down farther into its IT environment more than ever before. "For example, we have cords and switches, and they have a huge number of ports," said Sodah. "We can monitor all the management ports and traffic ports, and we're notified if there's latency or if a port is disconnected. It's wonderful!"
Better understanding of the environment
After initially monitoring all network devices with Nagios, Sodah and his team moved on to databases, services, and then to regular expressions on data logs and error strings.
"We are constantly discovering that Nagios helps us find abnormal behaviors in any system," he said. "Through these experiences, we understand our environment much better. We know when the system is slow or suffering from performance, and why. Through Nagios, we get clear visibility into all critical systems and fix the problem directly."
A game-changing UI
The flexibility of the user interface has made the team's work faster, easier and more productive. "Before Nagios XI, we had to work with multiple configuration files whenever we wanted to add something," said Sodah. "Now I can do it in one click!"
When ASE's IT environment was much smaller, Sodah and his team only monitored the critical system. But that required intense command line work that risked human error.
"With the growing complexity of our infrastructures, exponentially driven by adoption of technology services, it was unthinkable for us to validate each instance's health and services manually and separately," said Sodah. "By moving to Nagios XI, we got everything we wanted on a graphic interface. We don't have to edit or change anything in command lines. We don't have to define groups manually. We don't have to customize the plugins manually. We can perform insightful dashboarding and alerting. It's much, much better."
Powerful agents and plugins
ASE configures its nodes and services using Ansible. All nodes have Nagios Remote Plugin Executor (NRPE) server or Nagios Cross Platform Agent (NCPA) installed. NRPE is an agent used by Nagios XI for communicating with remote hosts (operating systems such as Linux or Windows), while NCPA is a cross-platform monitoring agent that features include both active and passive checks, remote management, and a local monitoring interface.
"The NRPE and NCPA agents are light and easy on the IT environment," said Sodah. "I get feedback from the system and know what's going on if something goes wrong. With our trading system, we need zero latency. We can't implement any agent or app that could slow the system or take from the sources of the system. With Nagios, we don't have to worry about that."
ASE also takes advantage of the thousands of free plugins available to Nagios XI customers, including plugins for Discord, Slack, and two-way communication on the application, SMS and others.
Rock-solid support
ASE's IT environment is absolutely critical, and any threat to it has strong reverberations. "We can't allow one single service to be down," emphasized Sodah. "It's essential for us to monitor and be sure that everything is really clean so we can best serve our partners, brokers, stakeholders, and the Jordan capital market."
Behind the power of Nagios XI is a strong Nagios support team, ready to assist. Sodah appreciates the move from open-source solutions that rely on community support to Nagios XI that's backed by a robust team.
"If you're a government entity like we are, you can't rely on open source monitoring without support – you need that support backbone from your vendor," he noted. "You want know there's a whole huge team working directly with the developers and users. With Nagios XI, you know people are working on it."
Proactive work
The ASE team responds quickly to notifications to protect the network's health. While all system admins take care of the servers and trading systems, each team member is also responsible for specific areas for which they get notifications and alerts.
"We can observe all these platforms, including services, in one IT environment. We are alerted to things that we can fix and address before they become big problems. We can even know what's coming next, such as when we see memory increase because the system has to upgrade," said Sodah. "If we can monitor it, we can control it."
---
Nagios XI - The Industry Standard Monitoring Solution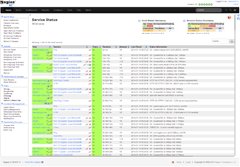 Nagios XI is the most powerful IT infrastructure monitoring solution on the market. Nagios XI extends on proven, enterprise-class Open Source components to deliver the best monitoring solution for today's demanding organizational requirements.
Designed for scalability and flexibility, XI is designed to make problematic IT monitoring tasks simple, while retaining the powerful attributes of its enterprise-class foundation blocks.
Learn More
Download Free Trial
Online Demo