Case Study

Nagios partners with National Administration of Electricity to successfully power Paraguay
Company Profile
E-Services S.R.L. is an innovative energy company offering solutions in monitoring, VoIP, call centers, and IT solutions. E-services S.R.L. saw the need for a powerful tool to perform monitoring for organizations of all sizes. E-Services S.R.L. chose to partner with Nagios and become the official representative of Nagios XI in Paraguay.

Business Needs
E-Services needed to provide a monitoring solution to the National Administration of Electricity (ANDE) in Paraguay. ANDE is the only public organization in Paraguay that manages all of the electricity in the country, from distribution to billing. ANDE has infrastructure throughout the country and manages everything from Paraguay's capital, Asuncion.
E-Services and ANDE required diverse and complex solutions in order to successfully implement a monitoring service throughout the country. This included a complete solution for real-time monitoring of network equipment, servers, cameras, UPS, and data center sensors. They also required statistics on the equipment and services used to manage electricity service.

"The efficiency and proactivity levels of our resources were raised. Nagios' centralized monitoring provided an excellent panoramic view and our troubleshooting time was decreased. The valuable and precise information was presented in well-organized reports."
The Challenge
Implementing a monitoring solution across Paraguay would require careful consideration of bandwidth monitoring, a definition of different escalations for uniquely-monitored hosts, a High Availability solution with a failover system, and a remotely accessible solution to acknowledge all of these problems.

Why Nagios?
Taking care of all of E-Services and ANDE's needs was tricky, but Nagios built a solution by providing them with:
A procedure to configure all monitored devices and provide the necessary information.
An implementation of Nagvis for all graphics.
Different escalations according to the urgency of the incident, and coordinating custom schedules for alerts.
The option to use Nagios' easy configuration for their machines and appliations.
A tool that provides the real-time status of hosts, and alerts their teams to problems in real-time, allowing SysAdmins to work efficiently.
The Bottom Line
Nagios provided E-Services and ANDE with real-time solutions, including:
A centralized monitoring system for their entire infrastructure, easing SysAdmin workload.
Helpful and intuitive statistics that simplify decision making and aid troubleshooting.
Easy-to-understand graphics and displays.
Excellent availability – thanks to the mirrored servers with the failover system.
---
Nagios XI - The Industry Standard Monitoring Solution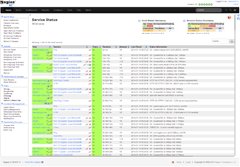 Nagios XI is the most powerful IT infrastructure monitoring solution on the market. Nagios XI extends on proven, enterprise-class Open Source components to deliver the best monitoring solution for today's demanding organizational requirements.
Designed for scalability and flexibility, XI is designed to make problematic IT monitoring tasks simple, while retaining the powerful attributes of its enterprise-class foundation blocks.
Learn More
Download Free Trial
Online Demo