How to Monitor Your Website With Nagios XI
Having a safe, reliable website is critical to driving business and building rapport with users. Using Nagios XI and the wizards listed below to monitor your website health across multiple areas will strengthen the security of your infrastructure.
What are wizards?
Wizards are addons to Nagios XI that make it easy for end-users to monitor new devices, services, and applications with Nagios XI. Wizards provide a user-friendly interface to what otherwise might be a complex task. They are especially useful for users who are new to Nagios XI, they create all the related monitoring configurations without needing to understand how Nagios XI works in the back end.
9 Nagios XI Wizards to Monitor Your Website
1. Defacement
To protect against web defacement attacks, using a Defacement Wizard can save you significantly from damages and loss of private information. This website defacement monitoring wizard uses the regular expression check to find a specific string that you do not want to appear on your website. You receive a critical response when the check finds one or more of the strings it was instructed to search for on the website. These strings can be organically created from lists of words, loading a CSV file, or selecting from categories of terms (gambling, profanity, pharmaceutical, etc.).
Our Defacement Wizard step-by-step guide can help you get started today.
2. URL Changes
Because URLs are often a long string of numbers and letters, information within that URL can be changed and go unnoticed. With the Website URL Wizard, any important copy within the URL can be entered and monitored in the "Content String to Expect" box. Now you can passively check for changes in the string and be notified when something happens.
The URL wizard is designed to accept any URL, even the adaptive or customized details. It'll tag that and check for that exact URL. You can check for content inside the URL or an expected part of the string.
Follow along in this video with the Nagios Tech Team to take advantage of the Website URL Configuration Wizard.
3. Domain Name System (DNS) Change
When visiting a website, the DNS identifies computers, services, and resources that align with the internet or an IP network such as HTTP. Through monitoring DNS changes you to stay on top of changes that might be a result of hijacking and redirections.
Once a website is implanted, Nagios reaches out and finds the IP address that it's assigned. This check looks for compromised domain registrations, control, and other risks. You can adjust these checks to whatever frequency you prefer, and receive custom notifications to your specific standards.
Check out how to install the DNS Query Wizard to your infrastructure with the Nagios Tech Team.

4. Secure Sockets Layer (SSL) Certificate Expiration
Maintaining up to date Secure Sockets Layer Certifications secures your organization's reputation and keeps users safe from hackers accessing private data. Nagios provides SSL Certificate monitoring to ensure that expired certificates don't negatively impact your organization's websites, applications and security. Nagios can generate alerts when SSL certificates near their expiration date so IT admins have time to renew before problems occur.
Learn how to configure SSL in Nagios XI.
5. File Integrity Monitoring
As you manage and update your website, you'll have many files you'll want unchanged to maintain the site. Gain awareness to when files and folders are modified, updated, or deleted with the Nagios Folder Watch Wizard. With this wizard, set up parameters and make adjustments to the information you want Nagios to monitor in one fell swoop.
Set up the Folder Watch Wizard in your Nagios XI infrastructure.
6. User Count
Monitoring user count can help your team establish peak hours and pages being visited. This information leads to better planning and scheduling of downtime.
The Nagios XI NCPA Wizard will get you started tracking user count.
7. Process Count
A server should continuously be running a certain number of applications and processes, but this number can vary from one organization to another. Fortunately, process count can be leveraged within Nagios so that you know if the number of items running is consistent and aligned with your infrastructure expectations. This passive check is a great tool to verify the overall health of your servers and provide concrete data to support purchase decisions or needs.
Leverage Process Checks to better understand your infrastructure.

8. Bandwidth Usage
Being able to calculate an expected usage of bandwidth can help indicate if there is an issue. Measure individual ports in a router, determine if they're consuming more or less than anticipated, or verify if they're plugged in. Monitoring your bandwidth usage leads to faster detection of network outages and protocol failures.
Find out how to get started monitoring bandwidth with Nagios XI.
9. Database Queries
Set up Nagios to track and monitor thresholds related to specific data inquiries of your website. From counting SKU's to determining online users, database queries can cross reference multiple points of information to paint a picture of your health.
Use the Microsoft Server SQL Monitoring Wizard to uncover deep data about your website infrastructure.
10. Log Files
Implementing effective log monitoring can increase security, awareness of network infrastructure, enable faster detection of outages and protocol failures, and more. Nagios Log Server finds specific strings of errors and notifies you when security may be impacted.
See how Log Monitoring with Nagios Log Server can improve your infrastructure efficiency.
If you want to know more about Nagios and website monitoring, see how our Website Wizards can help.
---
Nagios XI - The Industry Standard Monitoring Solution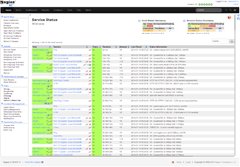 Nagios XI is the most powerful IT infrastructure monitoring solution on the market. Nagios XI extends on proven, enterprise-class Open Source components to deliver the best monitoring solution for today's demanding organizational requirements.
Designed for scalability and flexibility, XI is designed to make problematic IT monitoring tasks simple, while retaining the powerful attributes of its enterprise-class foundation blocks.
Learn More
Download Free Trial
Online Demo