Nagios Live Webinars
Let our experts show you how Nagios can help your organization.
Pricing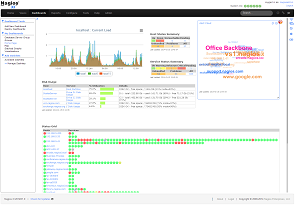 Nagios XI is available in two editions:
Enterprise
and
Standard
. The
Enterprise Edition
provides users with additional functionality and includes features that are designed to aid in large-scale configuration, forecasting, and scheduled reporting. A comparison of features between the two editions can be found
here
. Pricing for Nagios XI licenses is determined by the number of hosts (nodes) you intend to monitor. There are no restrictions on the number of services that can be monitored at any of the license levels.
| | 100-node | 200-node | Unlimited-node |
| --- | --- | --- | --- |
| Enterprise Edition* | $3,495 USD | $4,495 USD | $6,495 USD |
| Standard Edition | $1,995 USD | $2,995 USD | $4,995 USD |

*Note: Enterprise Edition licenses require annual renewal of Maintenance & Support - or - Maintenance-Only contract.
Support Information
Phone Support
Add a phone support package to your Mainteanance & Support contract to ensure your team has access to priority support services when you need them most. Phone support packages expire at time of license expiration.
| Phone Support Option | Price |
| --- | --- |
| 10 Call Pack | $1,495 USD |
| 5 Call Pack | $995 USD |
Email Support
Receive top-notch technical support via email from our support staff. All of this is included with your Nagios XI license.
| License Level | Support Incidents Included |
| --- | --- |
| Unlimited Node | 10 |
| 200 Node | 5 |
| 100 Node | 5 |
Purchasing Information
Ready to purchase a license for a new Nagios XI deployment? Buy Online Now
Need to renew your Nagios XI support and maintenance contract? Request Renewal

License keys are only provided once payment is received and clears. Contact us for information on payment methods or to obtain a custom quote.
Distribution Formats
Nagios XI is officially distributed in multiple formats:
VMware virtual machine image for running under VMware Player, Workstation, ESX, or vSphere
Source installer for installation to physical Linux servers running RHEL and CentOS
Need assistance with deploying Nagios XI to physical servers? We can help. Contact us for more information.
What's Included?
Technical Support
Nagios Enterprises offers priority tech support for Nagios XI via a special customer-only section of our support forum. Our customer-only technical support forum comes with a next business day (NBD) response time guaranteed. Each license also includes up to ten (10) email support incidents each year with NBD response time, depending on the license level purchased. Optional phone support packages are available to ensure your team has access to priority support services when you need them most.
Customer Downloads
Get a full year of access to customer-only downloads that enhance Nagios XI's native capabilities.
Training
Get a full year of access to self-paced training resources for Nagios XI and Nagios addons.
Perpetual License
Use Nagios XI Standard Edition as long as you'd like, even if you don't renew support and maintenance. *Note: Enterprise Edition licenses require annual renewal of Maintenance & Support - or - Maintenance-Only contract.
Updates
Customers who purchase maintenance receive free upgrades to future releases while their maintenance contract is in effect.
Nagios Library
Get a full year of access to the Nagios Library with special customer-only tutorials, videos, and tech tips.
Product Influence
We listen to all Nagios users when determining our product roadmaps, but your feature requests will get bumped up to the front of the line. Tell us what you'd like to see and we'll build our future products to include the newest features you're looking for.
Builder Licensing Freedom
Build extensions for Nagios XI using our APIs and you choose the license for your dashlet, wizard, or component: Open Source, proprietary, or public domain - the choice is yours.
Site-Wide Licenses
Sitewide Nagios XI licenses are ideal for large organizations and managed serviceproviders (MSPs) that require multiple Nagios servers to monitor their (or their clients') network infrastructure. Sitewide licensing offers substantial discounts on individual license pricing.

License pricing includes both maintenance (free upgrade entitlements) and email support for one year from the date of purchase. Maintenance and support can be renewed each successive year to ensure that your organization has access to the latest monitoring capabilities and technical support.

For additional information, please contact us.
Volume Discounts
Nagios XI is licensed on a per-monitoring server basis. Customers who require multiple monitoring servers can purchase multiple XI licenses at volume-based discounted license pricing.
| Licenses | Discount |
| --- | --- |
| 2 - 4 | 10% |
| 5 - 10 | 20% |
| > 10 | 30% |
Non-Profit Pricing
We offer non-profits and educational institutions a discount on Nagios XI licenses. For additional information, please contact us.
Free License for Small Environments
Have a small environment you need monitored? Nagios XI will monitor up to seven (7) hosts/nodes with unlimited services free of charge! Just select the free license in the XI administration interface. Perfect for SOHO and personal use. Support services are not included when using a free license.