Nagios Live Webinars
Let our experts show you how Nagios can help your organization.
Test Drive Nagios XI Free For 60 Days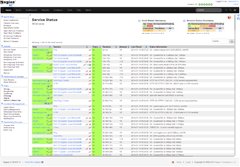 Interested in running a trial of Nagios XI to see how it can benefit your organization?  Our 60 day evaluation copy lets you test Nagios XI before you decide to purchase.  You can purchase a license key at any time and your Nagios XI instance will be enabled to a non-expiring version.  See what's included when you purchase a license.
During the trial period you'll be able to upgrade your Nagios XI installation with the latest patches to ensure you have access to the latest features and patches.
Download Nagios XI
Nagios XI downloads are hosted on the Nagios Library. Click the link below to visit the downloads page.
Online Demo
A live Nagios XI demo is available online at:
http://nagiosxi.demos.nagios.com
Obtaining Support
Support questions related to Nagios XI should be directed to our online support forum at http://support.nagios.com/forum
Consulting and Professional Services
Need assistance with migrating from an existing Nagios Core installation?  Looking for help with enhancing your current monitoring setup?  No problem!  We can provide professional implementation and consulting services to meet your needs.  Contact us for more information.